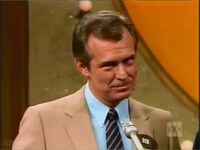 Robert Leland "Bob" Eubanks (born January 8, 1938) is an American radio, game show host and television personality best known for hosting the game show The Newlywed Game in several stints between 1966 and 1999, in addition to guest-hosting two episodes of GSN's revival in 2009 and 2010. During his time on The Newlywed Game, Eubanks became known for using the catch-phrase, "Makin' Whoopee". Some of his additional credits include ABC's Trivia Trap and CBS' revival of Card Sharks.
Eubanks is also known for bringing the Beatles to play in America, doing so by mortgaging, or borrowing against, his house.
Ad blocker interference detected!
Wikia is a free-to-use site that makes money from advertising. We have a modified experience for viewers using ad blockers

Wikia is not accessible if you've made further modifications. Remove the custom ad blocker rule(s) and the page will load as expected.