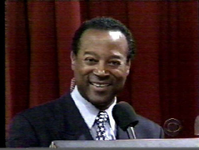 Burton Merrele Richardson (born September 29, 1949, in Portland, Oregon) is an American television announcer. He announced The Arsenio Hall Show from 1989 to 1994, where he became known for his long-drawn-out introduction of the show's host: "ARSENIOOOOOOO... HALL!" Richardson has also announced various game shows, including Rodeo Drive, Russian Roulette, WinTuition, the two most recent versions of To Tell the Truth (1990 and 2000), the current version of Family Feud (replaced by Joey Fatone in 2010), The Price Is Right Million Dollar Spectacular, and The New Price Is Right in 1994–1995. Between 2001 and 2004, he was one of several announcers who filled in for Rod Roddy during his illness and subsequent passing on The Price is Right. He later became the announcer for Family Game Night on The Hub in which he was later replaced by Stacey J. Aswad in 2012.
Ad blocker interference detected!
Wikia is a free-to-use site that makes money from advertising. We have a modified experience for viewers using ad blockers

Wikia is not accessible if you've made further modifications. Remove the custom ad blocker rule(s) and the page will load as expected.