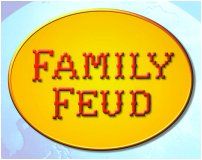 Welcome to the Family Feud Wiki!
Family Feud Wiki is an encyclopedia of overviews of episodes of the game show Family Feud, as well as the rules of the game, its broadcast history, and international versions of the show.
Family Feud is an American game show in which two families reveal answers to a survey question already given to 100 people.
Wikia does not own Family Feud, it belongs to FremantleMedia and other companies. No copyright infringement is intended.
New Articles
To create a new article, use this box.
Latest activity
Ad blocker interference detected!
Wikia is a free-to-use site that makes money from advertising. We have a modified experience for viewers using ad blockers

Wikia is not accessible if you've made further modifications. Remove the custom ad blocker rule(s) and the page will load as expected.