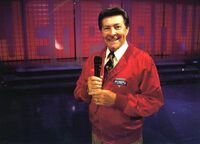 Johnny Gilbert (born John L. Gilbert III July 13, 1924, in Newport News, Virginia) is an American announcer who has mainly worked on various game shows. He is best known for announcing the syndicated version of Jeopardy! since its 1984 premiere and still does it today.
The first game show he ever announced was Music Bingo, a program that aired for two years on both NBC and ABC. Johnny was also a substitute announcer on Wheel of Fortune when the late Charlie O'Donnell was sick in 1995, on the April Fools 1997 episode when Alex Trebek hosted, and in 2010 following Charlie O's death. Johnny also hosted a few game shows, one of which was Music Bingo. He was also a singer and had his own album entitled The Voice of TV's Jeopardy!, Johnny Gilbert Sings. Johnny also lends his voice to the Nintendo Wii version of Jeopardy!, alongside host Alex Trebek.
Ad blocker interference detected!
Wikia is a free-to-use site that makes money from advertising. We have a modified experience for viewers using ad blockers

Wikia is not accessible if you've made further modifications. Remove the custom ad blocker rule(s) and the page will load as expected.