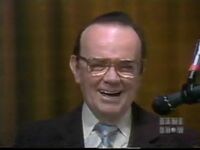 Johnny Olson (born John Leonard Olson in Windom, MN, May 22, 1910; died October 12, 1985) was an American radio and television announcer. He was the announcer for over 32 Goodson-Todman game shows, but most notably, The Price is Right from 1972 until 1985. Before his career as a game show announcer, he was the host on the DuMont Television Network. His first announcing job was on the original 1958 version of Name That Tune. At one time, he sub-hosted Play Your Hunch while current host Merv Griffin was out. John passed away from a brain hemorrhage on October 12, 1985; he was 75.
Ad blocker interference detected!
Wikia is a free-to-use site that makes money from advertising. We have a modified experience for viewers using ad blockers

Wikia is not accessible if you've made further modifications. Remove the custom ad blocker rule(s) and the page will load as expected.