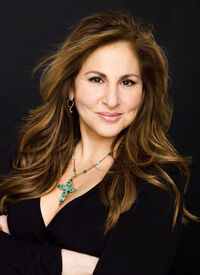 Kathy Ann Najimy (born February 6, 1957) is an American actress and comedian of Lebanese heritage, best known as Olive Massery on the television series Veronica's Closet, Sister Mary Patrick in Sister Act, Mary Sanderson in Disney's Halloween film Hocus Pocus, and the voice of Peggy Hill on the animated television series King of the Hill.
Prior to her film work, she was best known for two Off Broadway shows with Mo Gaffney working as the duo Kathy and Mo. One of the shows became an HBO comedy special and garnered Najimy her first nationwide fan base.
Ad blocker interference detected!
Wikia is a free-to-use site that makes money from advertising. We have a modified experience for viewers using ad blockers

Wikia is not accessible if you've made further modifications. Remove the custom ad blocker rule(s) and the page will load as expected.