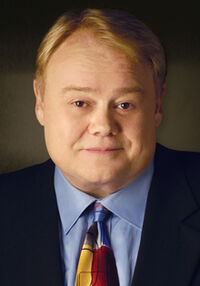 Louis Perry "Louie" Anderson (born March 24, 1953) is an American stand-up comedian. Anderson created the cartoon series Life with Louie, appeared in several TV shows including the NBC hit detective series Remington Steele (he was also a friend of the show's writer John Wirth), has written three books, and was the initial host of the second revival of the game show Family Feud, from 1999 to 2002 (he was later replaced by Richard Karn in 2002). Recently, he was a celebrity contestant for the ABC diving show Splash!
Ad blocker interference detected!
Wikia is a free-to-use site that makes money from advertising. We have a modified experience for viewers using ad blockers

Wikia is not accessible if you've made further modifications. Remove the custom ad blocker rule(s) and the page will load as expected.