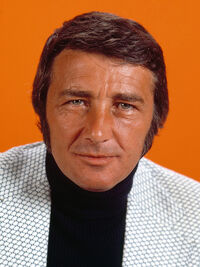 Richard Dawson (born Colin Lionel Emm on November 20, 1932; died June 2, 2012) was a British-born American Daytime Emmy award-winning actor, comedian, game show panelist and host. He was best known as a celebrity panelist of Match Game and the original host of Family Feud (until 1988 when he was then proceeded by Ray Combs, but has come back later in 1994).
One of his trademarks, kissing all the female contestants, was one of the things that made Family Feud appear to be a warm and friendly program. He was nicknamed "The Kissing Bandit". He stopped this trademark gesture by announcing on the premiere of the 1994 version of Family Feud that he promised his daughter not to do it anymore. Rich became a US citizen in 1984.
Ad blocker interference detected!
Wikia is a free-to-use site that makes money from advertising. We have a modified experience for viewers using ad blockers

Wikia is not accessible if you've made further modifications. Remove the custom ad blocker rule(s) and the page will load as expected.